Greger Larson is one of evolutionary science's most exciting and inspiring voices. So we were really grateful to him when he agreed to a conversation as part of our series "The Past, Present and Future of the Human Niche".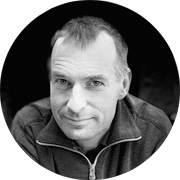 In this conversation, with the added input of one of our own researchers, Dr Rob Spengler, Greger talked to us about domestication, and the archaeological trail of evidence for how it came about. As ever, he touched on many different subjects. But what's particularly good about Greger in conversation is the way he allows science to open up. With evolutionary biology or anthropology, the temptation has been for scientists to channel evidence in a particular direction, in order to control the narrative. Greger is keen to go wherever the science takes him: if necessary to acknowledge blind alleys and cul-de-sacs, and even times when you're just in the dark! That's what, for him, makes the science of the Human Niche – past, present and future – so exciting. We hope this excitement comes across in our conversation.
About Greger Larson
Director Palaeogenomics & Bio-Archaeology Research Network, University of Oxford, UK

You can follow him on Twitter.
About Robert N. Spengler
Dr Robert N Spengler  is the director of the Paleoethnobotany Laboratories at the Max Planck Institute for the Science of Human History, Jena, Germany.
You can follow him on Twitter.